Hey there everyone. Welcome to this week's sponsor spotlight. The teams are scaling back for the next couple of months to enjoy the summer with their families but we still have a challenge for you as Alanna had posted earlier this week. I am letting you know about this month's sponsor which is Sparkle Creations.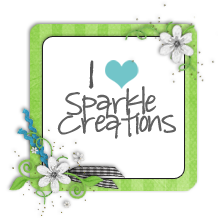 You were introduced to them back in May but here's the information on them, just in case you missed it.
Yes...Sparkle is my real name. I'm half Hmong and half Chinese. My ethnic names translate to shiny light, hence why my American name is Sparkle. I was born and raised in Portland, Oregon and graduated from Oregon State University in 2004. Soon after, I moved to Denver, Colorado. In 2008, I moved back to the Pacific Northwest and am now happily living in Maple Valley, Washington with my husband, Brent.

I have been crafting since I was a child, but seriously crafting since I was 16. I took a 4 year break while I was away at college, but started right back up again after graduation. I started as a scrapbooker, though over the years I've turned into a cardmaker and that is mostly what is on my blog.

Brent and I opened our own stamp company, Sparkle Creations Rubber Stamps, in July 2010. We are selling cute and whimsical rubber stamps of darling little boy and girl images. You can view our online store at: http://www.sparklecreationsrubberstamps.com/
Now Sparkle will be the only sponsor this month, so each week a different member from my team will bring you a project designed with Sparkle's images. And the prize for this month long challenge is the following 2(TWO) stamps:
Scooter Chloe
and
Street Corner Josh
!!!! They are PERFECT to celebrate summer!!
This week we are featuring
Cyndi!
Check out this super cute card! I swear if you look hard enough she actually sparkles :)
Don't forget to join in this week's challenge which can be found
here.